Fiber Optic Equipment: Revolutionizing Connectivity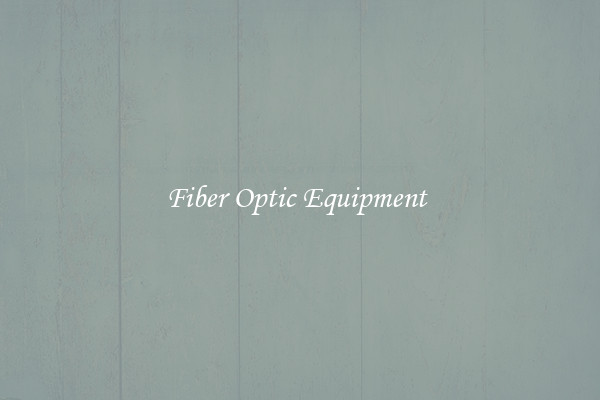 In our current digital age, where fast and reliable internet connectivity is vital for both personal and professional purposes, fiber optic equipment has emerged as a game-changer. With its ability to transmit data at lightning-fast speeds and over long distances, fiber optic technology has revolutionized the telecommunications industry and transformed the way we communicate and access information.
So, what exactly is fiber optic equipment? It comprises a wide range of devices and components that are responsible for the transmission, routing, and reception of data through fiber optic cables. These cables are thin, flexible strands of glass or plastic that transmit data using light pulses instead of traditional electrical signals. The fiber optic equipment ensures that this data is efficiently and securely transmitted from one point to another.
One of the most important pieces of equipment in this setup is the optical transceiver. This device acts as the bridge between the optical fibers and electronic devices, converting the electrical signal into optical signals and vice versa. Optical transceivers allow for seamless communication between different fiber optic networks, making them a vital component in internet service providers' infrastructure.
Another key component of fiber optic equipment is the fiber optic switch. Just like a regular computer network switch, a fiber optic switch directs data packets across a network. However, since fiber optic cables have a much higher data capacity, fiber optic switches are designed to handle large volumes of information and ensure minimal latency. They play a crucial role in maintaining the stability and efficiency of a network.
Moreover, fiber optic media converters are instrumental in connecting different types of networks together. They bridge the gap between fiber optic and copper-based networks, facilitating seamless data transmission across various network infrastructures. This is particularly useful in scenarios where an existing copper network needs to be upgraded to a faster and more reliable fiber optic network.
Fiber optic equipment has countless advantages over traditional copper-based networks, making it the preferred choice for modern communication systems. Firstly, fiber optic cables have a much higher data capacity, allowing for faster internet speeds and greater bandwidth. Secondly, they have a longer transmission distance with minimal data loss, making them ideal for long-haul communications. Furthermore, fiber optic equipment is immune to electromagnetic interference and is more secure, as it is difficult to tap into the data transmitted through these cables.
As our dependence on the internet continues to grow and new technologies like 5G and cloud computing emerge, fiber optic equipment will play an even more significant role in ensuring reliable connectivity. Its ability to handle increasing data demands, while maintaining speed and security, makes it a crucial investment for businesses, homes, and the telecommunications industry as a whole.
In conclusion, fiber optic equipment has revolutionized the way we connect, communicate, and access information. Its high-speed data transmission, long-distance capabilities, and security advantages have made it the preferred choice for network infrastructure. As technology advances and our connectivity needs evolve, fiber optic equipment will undoubtedly continue to shape our digital future.